The Stockman Family has a long history of breeding Stud Merinos, dating back to the early 1900's. Operated by Angus and Don Stockman, Glenowie runs 2500 Poll Merino Ewes in the Mid-North of South Australia.
Our vision is to breed large framed, deep and plain bodied, soft handling and early maturing, fertile sheep with heavy cutting fleeces. Producing wool averaging 21 microns our sheep are profitable, hardy sheep that perform for you. Grown in natural paddock conditions our stock are perfectly suited to Australia's diverse climatic pastoral regions.
Glenowie is situated 18km South West of Burra in an 18-inch rainfall area. From a Collinsville and Ashrose blood base, the stud has a solid background of structural soundness and constitution within the ewe flock, their 10 year micron average being 21. Glenowie has achieved outstanding results in their breeding program. With a strong emphasis on large framed, heavy cutting, multipurpose rams suiting the commercial and stud buyer. Glenowie clients report consistently high returns for their quality wool clip, plus having reputable livestock sales.
The Glenowie breeding program is always evolving with continual assessment and evaluation of market trends. The flock is moving forward ensuring clients are securing and selecting from sheep for a profitable future. The Glenowie flock are run under natural paddock conditions and are suited to all climatic regions. With good confirmation and heavy carcass, Glenowie rams are bred to target both the meat and wool markets.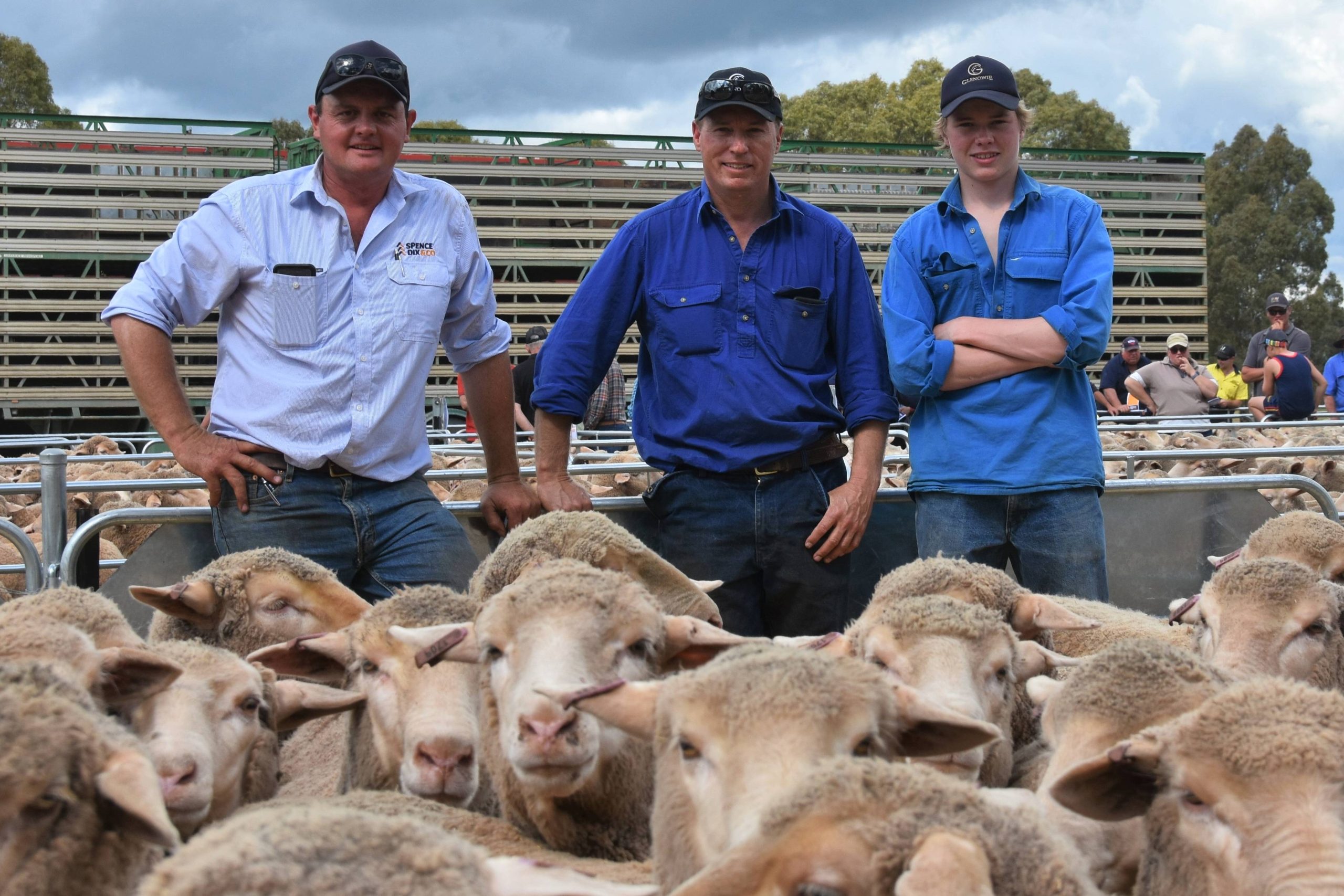 Angus Stockman pictured with son James and Spence and Dix and Co's Joe Scammel at the Mid North Feature Ewe sale where 402 of their 1.5yr old ewes were purchased for the second highest price of $382
I have been on Glenowie for the past three years and since them lamb percentage and wool cut has increased. Hoggetts cutting 6kg wool skirted With 10 months wool.
We have been buying Glenowie rams for 7 years now and since then we have lowered our micron and our fleece weight has increased. Our ewes are bigger and plain framed and the comfort factor has also increased. These rams are perfectly suited to our environment.
Angus lives at Glenowie with his wife Brooke and children; Hugo, James, Sophie and Eliza.
He manages the day to day running of the Merino Stud and is passionate about the future of Agriculture and the merino Industry.
Angus's passion for stud Merino sheep was ignited as a youngster, growing-up on Glenowie and Wartaka Station, via Port Augusta, working alongside his father Don.
After graduating in 1989, Angus spent 3 years jackarooing at Goolgumbla Merino stud under the guidance of manager Kim Hannaford. Angus returned to Glenowie  after his time in the Riverina of NSW with a greater knowledge and enthusiasm for the Merino industry.